Ebony Spindle Accent Chair
Ebony Spindle Accent Chair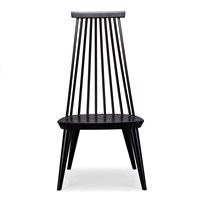 Dimensions
Overall 22"W x 43"H x 28"D (17 lbs)
Overall 55.88cm W x 109.22cm H x 71.12cm D (7.71 kg)
Distnace Between 19"L x 18.75"W
Distnace Between 48.26cm L x 47.63cm W
Seat 21"W x 2"H x 18"D
Seat 53.34cm W x 5.08cm H x 45.72cm D
Seat Height 16"H
Seat Height 40.64cm H
Back 28.5"H
Back 72.39cm H

Weight Limit - 300 lbs
Mahogany Wood
Ebony Finish
Dust with dry cloth, finish with wood polish.


Reminiscent of the classic chair from the 18th century, the slender spindles that line Sims' slightly curved backrest evoke modern elegance. The wide seat with a sloping edge and sturdy cigar legs complete the traditional silhouette constructed in modern utility.
View Details
Benefits of Registering
Order Online
View Inventory
Create Projects
Download Tear Sheets and Product Images
Receive our latest updates
Registering for Global Views also registers for Studio A | Home