Chorda Dining Table-Bronze-48"
Chorda Dining Table-Bronze-48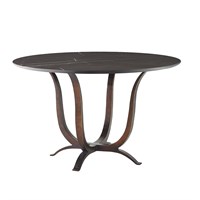 Dimensions
Overall 29.5"H x 48"Dia. (175 lbs)
Overall 74.93cm H x 121.92cm Dia. (79.38 kg)
Base 28"H x 36"Dia.
Base 71.12cm H x 91.44cm Dia.

Table Top Weight Limit: 157 lbs
Clean tops with a damp microfiber cloth daily for removal of light dirt. In case of spills of colored substances, such as wine or coffee, use gel detergents containing bleaching agents such as a sodium hypochlorite. Clean

The Chorda Dining Tables reflect the classic shape of the Grecian pulled longbow constructed of hand forged iron with a faux bronze finish supporting Italian table surfaces.
View Details
Benefits of Registering
Order Online
View Inventory
Create Projects
Download Tear Sheets and Product Images
Receive our latest updates
Registering for Global Views also registers for Studio A | Home