Baxter Tray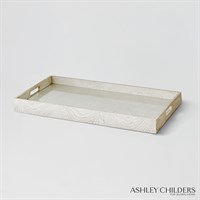 Dimensions
Overall 29"L x 15.75"W x 2.75"H
Overall 73.66cm L x 40.01cm W x 6.99cm H

Beech, Poplar, Ash, MDF
Ash Burl
White Ash Burl


Baxter Bar Cart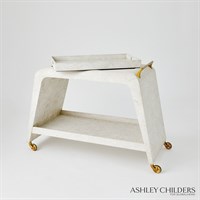 Dimensions
Overall 45.5"L x 22.75"W x 35"H (118.3 lbs)
Overall 115.57cm L x 57.79cm W x 88.9cm H (53.66 kg)
inner 28"L x 15"W x 1.5"H
inner 71.12cm L x 38.1cm W x 3.81cm H
Outer 29"L x 16"W x 2.75"H (12.3 lbs)
Outer 73.66cm L x 40.64cm W x 6.99cm H (5.58 kg)
Handle 17.5"L x 3"H
Handle 44.45cm L x 7.62cm H
Space between top and bottom shelf 19"H
Space between top and bottom shelf 48.26cm H
space between shelf and floor 7.5"H
space between shelf and floor 19.05cm H
Wheel Diameter 3"Dia.
Wheel Diameter 7.62cm Dia.
Wheel Height 3.25"H
Wheel Height 8.26cm H

Beech Wood, Poplar Wood, MDF, Ash Burl Veneer
Brass
Dust with good quality furniture polish and soft cloth on wood portion. Glass cleaner on glas portion.


As the newest addition to our Baxter collection, the Baxter Bar Cart marries the beauty of our signature white burl with a satin brass handle and wheels. A removable tray and antique mirrored shelf add to the beauty and functionality of this sculptural design.
View Details
Benefits of Registering
Order Online
View Inventory
Create Projects
Download Tear Sheets and Product Images
Receive our latest updates
Registering for Global Views also registers for Studio A | Home