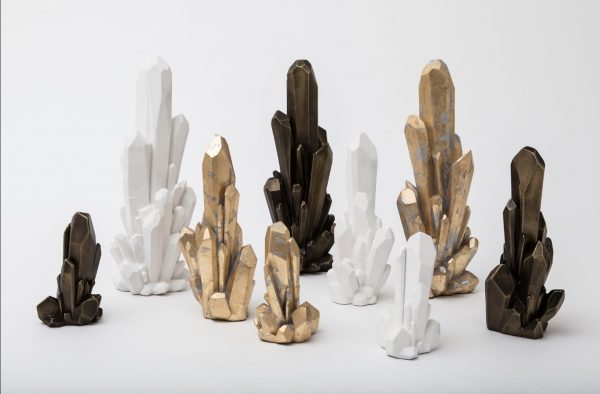 David Gebhart and Frederick Rayner are pleased to announce the acquisition of the Arete Collection.Originally founded by Bradley Clifford and George Sellers, the Arete Collection is renowned for magnificently carved and hand-crafted home furnishings. Global Views will introduce over 40 pieces from Arete's Faux Bois and Facetted collections at the October High Point Market. The debut will showcase Arete's unique carvings applied to decorative boxes, wall decor, lighting, and furniture in a wide range of finishes and materials. Included in the launch are a series of 8 magnificently articulated bronze caches with coordinating desk and table accessories.
The Faux Bois collection, true to its inspiration, reflects life-like carving; resembling nature. Pieces include table lamp, floor lamp and an accompanying side table. The Facetted collection is a spectacular tribute to contemporary design with modular pieces that can be configured into multiple shapes.
The Facetted console is showcased in a hand waxed white finish with gold leaf interior. The overall collection is a must see!
Studio A Home - A Global Views Company, will unveil several pieces from Arete's Modernist collection reflecting a modern mood for design including an urn, bowl, and vase. A stylish series of travertine boxes with hand applied maritime bronze cast motifs will also be featured. Existing customers of Arete Collection may continue to request product information via the website www.aretecollection.com during the transition period as designs move to the Global Views and Studio A Home websites and showrooms for future purchasing. George Sellers, and his apprentice, Ely Sellers, have joined the Global Views team to facilitate this process and are excited for the opportunity to influence the design aesthetic of their new adopted home. "The design team and I are thrilled about this collaboration with George and Ely of Arete Collection. We are working on several new collections and releases that promise to be amazing and highlight their extraordinary talent," said David Gebhart, CEO of Global Views and Studio A Home.
Bradley Clifford's next endeavor will be offering private label consulting in the home decor manufacturing sector, as well as representing a variety of international artists. We are confident his next venture will be as great as his work at Arete Collection, which reflects his 26-year commitment to providing the highest quality design work in the marketplace. Bradley can be reached directly at [email protected]