Photographers Cyndi & Laura certainly know how to mix up some serious craft cocktails in our Global Views barware. They were kind enough to share their recipes so we can serve our friends and family with style. When a drink is visually pleasing, it is sure to taste even better.
Blackberry Mule Craft Cocktail
em>Barbara Barry Solstice Glassware- midnight blue
Blackberry Mule
Ingredients (serves 8):
1/2 pint fresh blackberries
1/2 bunch (1.5 oz) fresh mint
1 1/2 cups vodka
8 limes, juiced (about 1 cup)
2 (16.9 oz.) bottles Fever Tree Ginger Beer
Preparation:
Muddle blackberries and mint in a large container
Mix in vodka and lime juice
Add ginger beer and gently stir
Serve over ice, garnish with blackberry and mint sprig
Photo Credit: CLstudios.com
Double Old a Fashion 2 Band Drinking Glasses, boxed leather tool set.
Pineapple Jalapeno Rum
Ingredients (1 serving):
3 oz. rum
3 oz. pineapple juice
1 oz. fresh lime juice
2 slices fresh jalapeno
1 slice pineapple
1 lime wedge
sriracha/chili salt
Preparation:
Run a wedge of lime around the glass rim and then dip rim in salt
In a cocktail shaker filled with ice, muddle one jalapeno slice and pineapple
Add rum, lime juice and pineapple juice
Shake well, pour over ice
Garnish with one thin slice of jalapeno
Photo Credit: CLstudios.com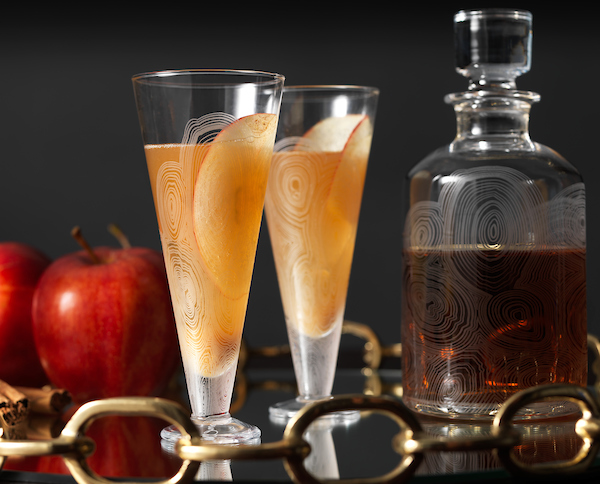 detail of bourbon apple pie craft cocktail
Malachite flute and decanter, Linked Mirror Tray
Bourbon Apple Pie
Ingredients (1 serving):
1 1/2 oz. bourbon
1 tsp. minced ginger
1 1/2 oz. apple juice
topped with Fever Tree Ginger Beer
1 apple slice (use a mandolin slicer for thinner slices)
ground cinnamon
Preparation:
In a glass with ice, stir bourbon, ginger and apple juice
Top with ginger beer
Garnish with apple slice, dusted with cinnamon
Photo Credit: CLstudios.com
blueberry basil margarita craft cocktail
Honeycomb Ice Bucket & Double Old Fashion Glasses
Blueberry Basil Margarita
Ingredients (1 serving):
2 oz. tequila
1 oz. agave
5 blueberries, plus garnish
1 oz. fresh-squeezed lime juice
2 basil leaves, plus garnish
Preparation:
In a shaker filled with ice, muddle blueberries, lime juice and basil leaves
2 Add tequila and agave, shake well
3 Pour over ice and garnish with blueberries and basil
Photo Credit: CLstudios.com