Flared Fluted Vases-Matte White
Flared Fluted Vase-Matte White-Sm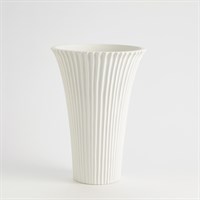 Dimensions
Overall 20.25"H x 14.5"Dia. (17.7 lbs)
Overall 51.44cm H x 36.83cm Dia. (8.03 kg)
Bottom 7.25"Dia.
Bottom 18.42cm Dia.

Product is Watertight


Flared Fluted Vase-Matte White-Lg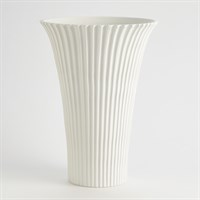 Dimensions
Overall 24"H x 17.25"Dia. (24.9 lbs)
Overall 60.96cm H x 43.82cm Dia. (11.29 kg)
Bottom 8.75"Dia.
Bottom 22.23cm Dia.

Dust with dry cloth
Product is Watertight


Quite large in stature, the Flaired Fluted Vases are made of slip cast Italian ceramic with a matte white finish.
View Details
Benefits of Registering
Order Online
View Inventory
Create Projects
Download Tear Sheets and Product Images
Receive our latest updates
Registering for Global Views also registers for Studio A | Home